Yes, this blog is still alive, sort of. I took hubby out for his birthday dinner about a month ago to Whitehall. I was looking for something different; and a modern take on British influenced cuisine fit the bill. Whitehall has been around for a couple of years and I've always been curious about it. It's a restaurant that has a Michelin starred touch, thanks to its chef.
I enjoyed the decor; "The Other Room" sign was hung over the entrance to well, the other room. Service was very good, with the attention to  detail that could be expected of a place with such a pedigree.
After a lot of thought, we both decided to go with the Chef's Tasting menu as shown in the pictures below. The whipped pork rind was topped with chili which added a nice pop. The butter tasted like, well, butter.
I do like fine food without the pretentiousness of fine dining. This place fits the bill. The bread was served fittingly in a paper bag.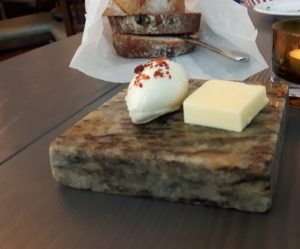 The salad course came with an interesting twist. Stilton snow. I'm not a big fan of Stilton cheese, but the snow added a hint of subtlety to tone down the flavour.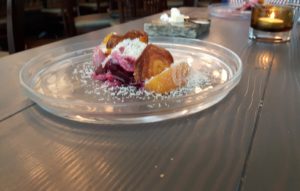 Hen of the Woods mushrooms are a British thing. My husband told me so. They are also a Japanese thing, known as Maitake in the Land of the Rising Sun. This dish is a nod to the Japanese influence, with the tartness of the yuzu complimenting the earthiness of the mushroom.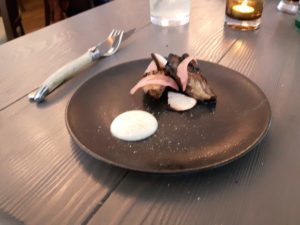 The risotto was my least preferred dish, through no fault of the chef. Each of the previous dishes had one bold flavour with a supporting cast. The main act didn't come out in this dish, but perhaps that was the intent.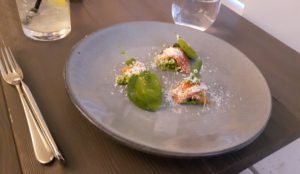 This course was by far my favourite. The potatoes were crisped in a rich, buttery skin. I could have ate them all night long. The lamb was done to a perfect medium rare. The kebabs were herby spicy and the chutney complimented the lamb sirloin nicely.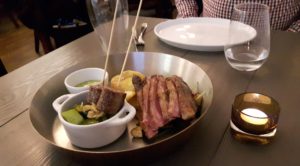 The pine parfait was interesting. The undertones of pine flavour matched well with the richness of the chocolate.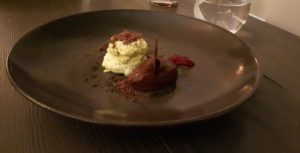 I really like the bold flavours which takes a cuisine not known for boldness to another level. Hubby would love a return visit.