I had the hankering to make these recently. I'm not sure why. Maybe the ramen craze is driving me to make noodles. Oh well, when I used to make this more often, it was a reliable, comfort food standby. Also good for potlucks.
(sing chou chow mei)
1 pkg (454g) rice vermicelli
1 ½ C sliced chicken or pork
½ C raw peeled, small shrimp
2-3 tbs soybean and sesame oil, or vegetable oil
1   small onion, cut in half and sliced
1 C  sliced Chinese mushrooms (reconstituted from dried)
1 C  grated carrot
1 small red pepper, sliced
2 C fresh bean sprouts
3   green onions, sliced diagonally
2 tsp salt
2 tbs madras curry
4 tbs soy sauce
dash, dried chili pepper flakes to taste
drizzle, sesame oil
Servings: Makes a lot, like 20 servings
Soak the vermicelli in hot water until soft (10 min). Drain and coat with 1 tbsp of oil. Grease a wok with oil. Turn heat to medium low. Cook meat until almost done. Add mushrooms, onion, shrimp and red pepper. Cook until done. Add vermicelli. Add salt, curry, soy sauce and chili pepper flakes to taste. Warning: this already makes a medium hot dish. Be careful with the chili pepper. Stir fry until seasonings are mixed through. If it starts to stick to the pan add more oil until it doesn't. Add carrot, bean sprouts and green onion. Stir fry until heated through. Remove from heat and add sesame oil to taste before serving.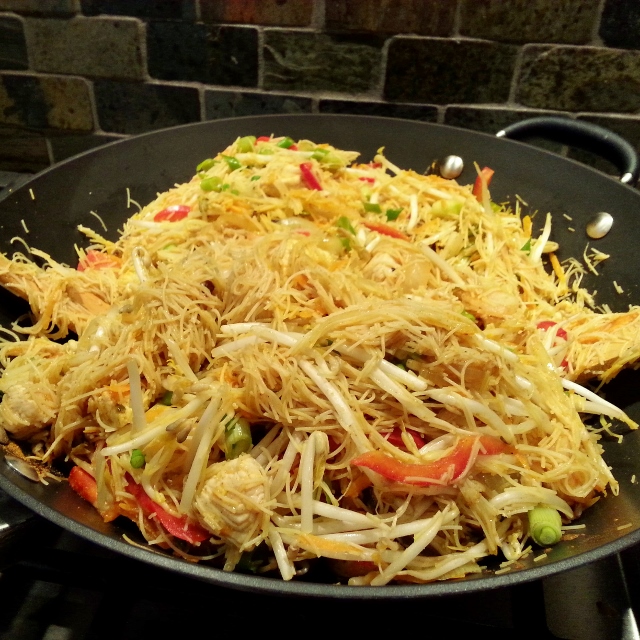 Additions: This dish traditionally contains sliced omelet if so inclined. Can also be vegetarian if meat is omitted.