Cassoulet is a hearty French stew of meat and beans. Perfect comfort food for Canadian fall and winter. Made easier with the Instant Pot. This recipe is modified from one no longer on the web, but it's original remains. A classic from Thomas Keller. I've made it a couple of times and I quite enjoy it. I find it hard to procure chicken garlic sausage, you could use chicken sausage or even mild Italian sausage. I wouldn't call this a traditional cassoulet but it is pretty darn tasty.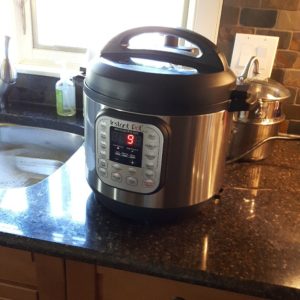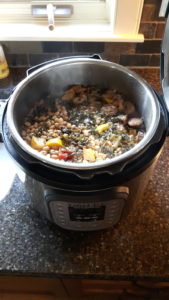 Cook Time

50

minutes including venting
Cook Time

50

minutes including venting
Season the pork ribs generously with salt and pepper; set aside.

Set pressure cooker to Sauté to heat up the insert. Add the bacon to the insert and cook until crisp on both sides, about 5 minutes. Drain on paper towels. Reserve the bacon fat in the insert.

Add half of the pork to the insert and brown on all sides, 7 to 8 minutes total. Transfer to a platter. Repeat with the remaining pork.

Add the onions, carrot, celery, zucchini, kale and 1 teaspoon salt to the insert and cook, stirring occasionally, until softened, about 7 minutes. Add the wine and simmer until reduced by half, about 8 minutes. Stir in the tomato paste, tomatoes and broth. Turn off the Sauté feature. Add the pork, sausage, beans, rosemary, thyme, parsley, bay leaf, kombu and garlic. Stir everything to combine.

Place the lid on the pressure and lock into place. Press the Meat/Stew Button. When done, release pressure naturally. If pressed for time, NPR for 10 minutes then open the vent. Remove lid, skim off the fat, and remove and discard the bay leaf and piece of kombu. Adjust the seasonings with kosher salt and pepper.

Ladle cassoulet into individual serving bowls, top with reserved bacon and fresh minced parsley. Serve with crusty rolls on the side.