I'm looking for something a little different for my Christmas cookie exchange this year. I decided on matcha thumbprints with red bean paste. These cookies are the colours of the season, red and green. I love the asian influence; green tea and red bean paste. The original recipe ended up too dry, so I added egg white and water. I took out some of the sugar as the matcha was sweetened. It seemed affordable at $18 a bag, as the pure fetched $30 for a Chinese teacup sized amount. These turned out surprisingly well. For the cookie exchange, I will probably omit the red bean paste it it makes it a little messy to store.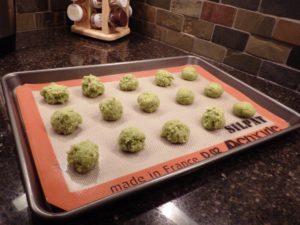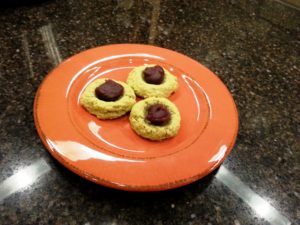 Post has been rewritten in a recipe friendly format. Originally posted on November 10, 2013.

In a medium bowl, sift together the flours, baking soda, matcha and salt.

Using a stand mixer, cream together the butter and sugar until light and fluffy.

Add the egg and vanilla and beat until combined. Scrape down the sides of the bowl and mix for another 30 seconds.

On low speed, add the flour/matcha mixture and mix until fully incorporated. Add water if too dry.

Form into a ball or disc and cover with plastic wrap. Refrigerate for 15 minutes.

Position rack in the middle of the oven.

Roll the dough into 1-inch balls and bake them for 12 minutes.

Remove from oven and make a dent in each cookie (you can use your thumb but I don't like a burnt thumb so I used the back of a ½ tsp measure).

Fill cookies with red bean paste.

If you like your cookies crisper you can go for more time. These are still chewy in the middle.

Remove cookies from oven and let cool on cookie sheets for 5 minutes. Transfer to a wire rack to finish cooling.