Ah, the memories. I love nothing better than a classic salted caramel cookie. No wait. Even better is a black sea salted caramel cookie. I have evidence that I baked these as early as 2011. Over the years, I've evolved the recipe slightly from the original which no longer seems to exist on the web.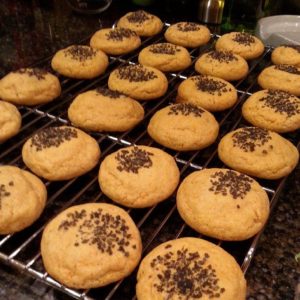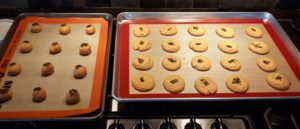 Here are some pro tips.
If you really like these, buy the caramels in the 2 kg bags. Safeway has them around Halloween. I apolgize for the photo. Half the bag has mysteriously disappeared.

You can also get them in smaller bags at London Drugs. I've also seen them at Dollar Tree.
I got my black sea salt directly from Maui. It is definitely worth the trip if you can go. If not, Silk Road Spice Merchant carries it in town. You don't have to use black sea salt. But you should agree, it looks much better.
Plan on baking some extra. There will inevitably be some exploding caramels. Who can't use some extra cookies?
These are going to make you a hit with all your friends. Don't ask me how I know…
They freeze really well. Remember to separate the layers with wax paper.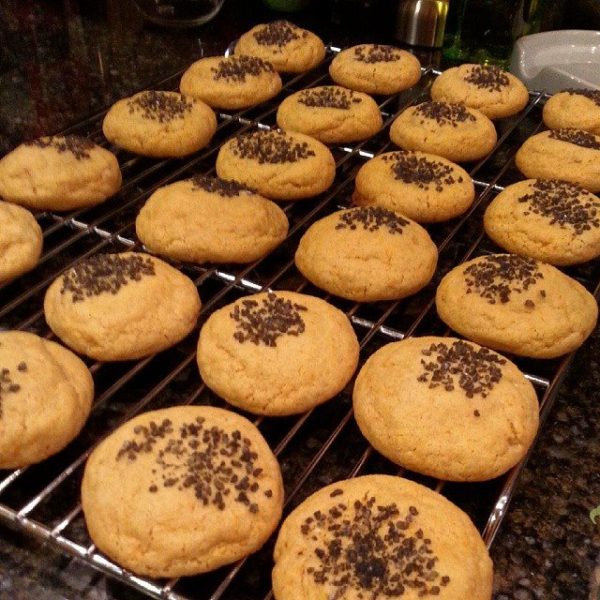 | | |
| --- | --- |
| | |
Heat the oven to 375°F. Line two half sheet cookie pans with parchment paper or even better, Silpats.

In a large mixing bowl, beat the butter and sugar until creamy.

Add the egg, vanilla and milk; beat until mixed.

In a medium bowl, combine the baking soda, baking powder, pudding mix, and flour.

Gradually add the dry ingredients to the wet ingredients, mixing until combined.

Shape the cookie dough into one-inch balls. For each cookie, place a half a caramel candy in the center and wrap the cookie dough around the candy.

Put the sea salt into a shallow dish. Dip the top of the cookie into the salt.

Place the dough balls, with the bottom slightly flattened onto prepared cookie pans about 2 inches apart.

Bake 10-12 minutes or until the cookie edges are light golden brown.

Allow the cookies to cool 5 minutes before transferring to cooling racks to cool completely.
Adapted from http://www.littlebittybakes.com/2011/09/blue-ribbon-sea-salted-caramel-cookies/