So Amazon.ca had a Black Friday deal for the Instant Pot IP-DUO60 7-in-1 multifunction cooker. I bought one of these way back in July on Prime Day. For my new round of soon to be Instant Pot lovers, here are some of my more successful recipes. I live in Calgary, Alberta and there is a small adjustment for altitude with some of my recipes.
Here are some tips.
Read the instructions. The control panel is not that intuitive. But if you read the instructions, you won't get any surprises.
The steam from the vent is very hot. I would not set the cooker underneath your kitchen cupboards.
It's a very safe pressure cooker. I've tried opening it (by accident) when the float was still up and it wouldn't let me do it.
Don't close the lid while sauteing.
If you are slow cooking, you don't need to completely cover your meat with liquid.
Most recipes on the web don't adjust for altitude. This might matter in some cases. I've found, for example, I need more water for steel cut oats. Also more time.
Recipes
I eat steel cut oats for breakfast every morning. Once a week, I whip up a large batch and store it in the fridge. I like mine creamy/chunky and definitely not dry.
Steel cut oats
1 1/3 cups oats                       2 1/3 cups oats
2.5 cups water                         7.5 cups water (1775 ml)
Manual low pressure for 10 minutes, natural release 12 minutes then vent
I whipped up some wild rice pilaf this past Thanksgiving. Last year it took me over an hour on the stovetop. Of constant watching and stirring.
Wild rice blend
1 cups wild rice
1 cups wild rice blend
4 cups water
Manual low pressure for 30 minutes, natural release 10 minutes then vent
Pulled pork
I really liked this  root beer pulled pork. recipe  It has a hint of root beer flavour with a vanilla aftertaste. It sounds strange but it works.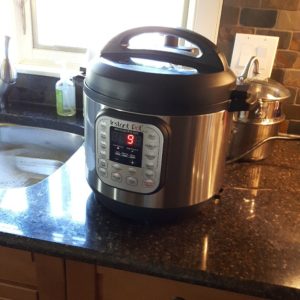 My cassoulet as shown below turned out rather well. The recipe can be found here.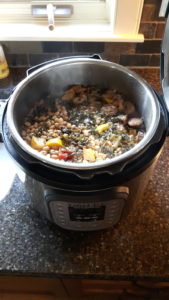 I've also included my butter chicken recipe, a twist on an all time favorite of mine. Warning – it is a fusion style recipe.

Cut chicken into 1 inch pieces. Put into a bowl and add ginger, garlic, red chili powder, turmeric, tandoori powder and salt. Mix well and let sit in the refrigerator for 30 minutes, or overnight.

Before cooking, take out the chicken and let it stand for 10 minutes to come to room temperature. In the Instant Pot, turn on saute and melt 2 tbs of the ghee. Add the crispy fried onions and the chicken. Saute until the chicken is golden brown, just a few minutes. Add one cup of warm water.

Turn off the saute and pressure cook manually on low for 10 minutes.

Natural pressure release for 5 minutes, then open vent.

Meanwhile, heat the remaining butter in a skillet over medium high heat. Add the raisins and the blanched almonds and saute for 1 minute, then set aside.

When the float has dropped on the Instant Pot, open the lid and add one cup of cream to the chicken, then Worchestershire sauce, sugar, cardamom and nutmeg. Stir.

Stir in the reserved raisins and almonds. Serve.
Serve with basmati rice. Done in the rice cooker, of course.
Adapted from Simply More Indian & Patrick Dunn