Update: Originally posted on November 30, 2016. Edited to help my many friends new to the Instant Pot.
So Amazon.ca had a Black Friday deal for the Instant Pot IP-DUO60 7-in-1 multifunction cooker. I bought one of these way back in July on Prime Day. For my new round of soon to be Instant Pot lovers, here are some of my more successful recipes. I live in Calgary, Alberta and there is a small adjustment for altitude with some of my recipes.
Here are some tips.
Read the instructions. The control panel is not that intuitive. But if you read the instructions, you won't get any surprises.
Amy and Jacky's website is a great resource for pressure cooking. Check out their tips for beginners. Go over the acronyms before reading the rest of this post.
The steam from the vent is very hot. I would not set the cooker underneath your kitchen cupboards. I might add, if you prefer to QR, set the pot under the hood fan prior to cooking.
Here are some more tips on venting. It's a pressure cooker. Which means that contents are under pressure.  The pressure must be released before the lid is opened. If you are really in a hurry then you can QR right after the cooking time is done. To do this, cover the vent with a proper tea towel. I wouldn't recommend a small dish towel. Use a wooden spoon to slowly nudge the vent open. Close it if the water and steam come out too fast. Repeat this step a couple of times until the pressure eases enough that the vent can be left fully open.
My preferred venting method is 10 minutes NPR, followed by a QR. Under the hood fan if the pot is at least two thirds full.
It says that it only takes xx minutes to cook? Really!?!
No. Not really. It takes between 5-15 minutes to warm up. Depending on how full the pot is.  Then I usually wait 10 minutes after it's done so I don't get scalded when trying to open the vent. How full the pot is determines how long it will take for the pressure to drop. I would add at least another 15 minutes using the 10 min NPR and vent method. Longer on the back end if the pot is close to full.
It's a very safe pressure cooker. I've tried opening it (by accident) when the float was still up and it wouldn't let me do it. Having said that, I have had a few mishaps. It's not the Instant Pot, it's just me.
Don't close the lid while sauteing.
If you are slow cooking, you don't need to completely cover your meat with liquid.
If you like to slow cook and serve say, mulled apple cider at a party, I would use a regular pot lid that fits the inner pot. Leave the pot on keep warm and let the guests serve themselves. The regular lid is awkward for beginners to use.
If you are steaming, put at least 1 cup of water in the bottom. Then add a trivet.
Most recipes on the web don't adjust for altitude. This might matter in some cases. I've found, for example, I need more water for steel cut oats. Also more time.
Here's some fail safe rice recipes. I haven't tried any of them. I'm sure they are fine at sea level.
Burning question (Literally!) Have I had any cooking accidents? Yes! One time I got distracted and accidentally put 1/2 a cup of rice into the pot without the inner pot. Then I dumped the other 1/2 into the inner pot, put the pot on the element, added water and turned it on. Oops! Cue burning smell. And another Instant Pot. I also managed to steam veggies on low in 1/2 cup of water. That didn't work so I tried it again on high. By then all the water was gone and all I heard were some clunking noises. Of the trivet vibrating on the bottom of the pot. Moral of the story: add 1 cup of water. I've also dropped a pot liner and made a dent in it. I contacted customer service and they said it was A-ok to use!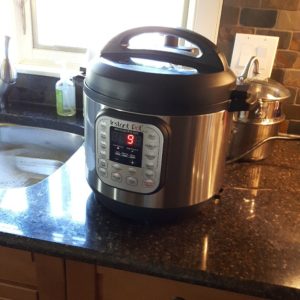 Recipes
Here is a selection of mostly my own recipes that I have used successfully in Calgary. Your mileage may vary. Comment on my Facebook page if you would like more recipe suggestions. I'm currently working on converting my Bengali Daal recipe. I've tried Lu rou fan (Taiwanese beef stew), Bo kho  (Vietnamese beef stew), pho, chili, congee, see yau kai (soy sauce chicken), beef and barley soup, pulled pork, baked beans, spaghetti bolognese, Mexican carnitas, beef stroganoff, BBQ ribs, barbacoa de cordero (lamb Mexican style), and cassoulet. There, I just went through my whole recipe binder.
I've also included my butter chicken recipe, a twist on an all time favorite of mine. Warning – it is a fusion style recipe. Scroll way to the bottom for this one.
Grains
Steel cut oats
Jasmine rice
Wild rice blend
Bulgur
Beans
French lentils
Vegetables
Carrots
Cauliflower
Potatoes
Protein
Hard boiled eggs
Pulled pork
Soup Style
Turkey congee
Cassoulet
I eat steel cut oats for breakfast every morning. Once a week, I whip up a large batch and store it in the fridge. I like mine creamy/chunky and definitely not dry.
1 1/3 cups oats                       2 1/3 cups oats
2.5 cups water                         7.5 cups water (1775 ml)
Manual low pressure for 10 minutes, natural release 12 minutes then vent
Carrots for kids
Use large square glass dish with trivet & 1 C of water in the pot
6 min manual, high pressure, natural release
Potatoes
14 min. steam on high
Cauliflower
3 min manual, high, quick release
Jasmine rice
1 C rice to 1.25 C water
Rice setting, 10 min natural release
I whipped up some wild rice pilaf this past Thanksgiving. Last year it took me over an hour on the stovetop. Of constant watching and stirring.
1 cups wild rice
1 cups wild rice blend
4 cups water
Manual low pressure for 30 minutes, natural release 10 minutes then vent
French lentils
1 C lentils
2 C water 15 minutes manual high pressure, natural release 10 minutes then vent
Bulgur
1 C bulgur (wheat berries)
3 C water 25-30 minutes manual high pressure, natural release 10 minutes then vent
Hard boiled eggs
Pour one cup of water into the pot. Place eggs on rack that came with the pot, or use a steamer basket. 5 minutes on high then vent. Rinse with cold water so I could handle them and voila! Perfect eggs.
I really liked this  root beer pulled pork. recipe  It has a hint of root beer flavour with a vanilla aftertaste. It sounds strange but it works.

Cut chicken into 1 inch pieces. Put into a bowl and add ginger, garlic, red chili powder, turmeric, tandoori powder and salt. Mix well and let sit in the refrigerator for 30 minutes, or overnight.

Before cooking, take out the chicken and let it stand for 10 minutes to come to room temperature. In the Instant Pot, turn on saute and melt 2 tbs of the ghee. Add the crispy fried onions and the chicken. Saute until the chicken is golden brown, just a few minutes. Add one cup of warm water.

Turn off the saute and pressure cook manually on low for 10 minutes.

Natural pressure release for 5 minutes, then open vent.

Meanwhile, heat the remaining butter in a skillet over medium high heat. Add the raisins and the blanched almonds and saute for 1 minute, then set aside.

When the float has dropped on the Instant Pot, open the lid and add one cup of cream to the chicken, then Worchestershire sauce, sugar, cardamom and nutmeg. Stir.

Stir in the reserved raisins and almonds. Serve.
Serve with basmati rice. Done in the rice cooker, of course.
Adapted from Simply More Indian & Patrick Dunn